News
COMMUNITY UPDATE
posted Oct 27, 2022, 2:45 PM
Community Update
October 27, 2022
Dear Bluewater athletes, parents, volunteers and coaches.
We are writing this letter to provide some important updates from our Club leadership about our ongoing commitment to create a respectful and welcoming culture, and to ensure you feel supported during what will be another series of news items that may feature our club.
The Board and Staff are committed to continue to put in place leading policies, procedures and programs to ensure that athletes feel safe, respected, and supported. We are committed to creating and maintaining an open and safe environment for the children and youths to whom have been entrusted into our care.
Board Leadership
The Board of Directors is comprised of parents and community volunteers. The Board of Directors is grateful to the Staff for going above and beyond and working alongside us to foster an open and safe environment, where the central focus is the wellbeing of the athletes. For more information on our Board of Directors see our website.
Documentary on Gymnastics
The Board of Directors feel it is important to proactively communicate about the upcoming documentary that will be aired on November 5, 2022, on Crave, and on November 12, 2022, on W5. This documentary focuses on the maltreatment of athletes in our sport. Please note that there may be reference to our Club. We are mindful that this documentary may be triggering, upsetting and difficult for anyone who has been, is, or who have been involved with our club. The Board of Directors have not seen the documentary but anticipate this may stimulate questions about how the Club has evolved since 2017. If you have any questions or concerns, please do not hesitate to reach out to us.
Our Commitment
As volunteers we believe in the power of sport to transform communities, to bring people together, to empower people and to be a positive training ground for the development of healthy and confident young people. We are focused on welcoming all individuals to achieve their personal physical goals. Being accountable, transparent, and values-driven has been our commitment and we will continue to make the necessary improvements to ensure this is realized in the years to come.
Good sport and good governance go hand in hand. Thus, we have created a Resource and Policy page on our website, that includes True Sport, as we believe in the 7 principles and feel that they reflect our commitment to creating a safe, welcoming and inclusive culture. Within this section, you can find our relevant policies that speak to this commitment and provides additional information related to our due diligence including ensuring Rule of Two, Police Record Check, Coaches in training (CIT) and Staff Training, Organization Code of Conduct and Reporting Complaints, and Concerns and Incidents Policy. The Board of Directors will continue to update our policies and practices, especially those that deal with complaints, codes of conduct, and maltreatment. We have also amended our Board governance policies to ensure that we are managing conflict of interest, supporting the work of staff, minimizing risk, ensuring prudent fiscal oversight, and engaging more frequently with our membership. Our mandate is to focus less on outcome, and more on the experience that individuals are having as club members.
We are grateful to our BGC family for entrusting us and want to express our sincere gratitude for inviting us to lead. We feel that our Club is on a healthy path, and we look forward to your ongoing feedback so that we can learn and make improvements together.
With thanks and appreciation,
Bluewater Gymnastics Club Board and Staff
BLUEWATER RESPONSE TO TSN GYMNASTICS CANADA ARTICLE
posted Aug 16, 2022, 1:36 PM
Bluewater Gymnastics hired Alex Bard on a temporary sub-contract arrangement while simultaneously recruiting a full time Head Coach for the clubs competitive program.
Prior to Alex Bard assisting the club, the Executive Director at that time conducted reference checks regionally and nationally while also completing vulnerable sector check.
The Club was not made aware of any infractions as it relates to Safe Sport policies during recruitment and sub contract negotiations. Safe Sport policies and procedures were in place the entire time Alex Bard was at Bluewater Gymnastics Club.
https://www.tsn.ca/rick-westhead-gymnastics-canada-publicly-lauded-coach-who-was-fired-after-multiple-complaints-1.1836996

Rob Dawson, Board President
519 704 1302
BGC STATEMENT REGARDING THE FINALIZATION OF DISCIPLINARY SANCTIONS TO DAVID AND ELIZABETH BRUBAKER
posted Apr 13, 2022, 7:19 PM
Re: Withdrawal of Appeal and the Finalization of Disciplinary Sanctions to Dave and Liz Brubaker
Bluewater Gymnastics Club has been informed of the withdrawal of appeal that was initiated by David and Elizabeth Brubaker on March 29, 2021. The Panel ruled that David Brubaker be permanently banned from coaching and Elizabeth Brubaker be suspended to January 18, 2024.
Bluewater Gymnastics Club respects the courage of the Bluewater Survivors to come forward and have their voices heard.
Bluewater Gymnastics Club continues to strive to create a positive and transparent culture for our Board of Directors, participants, staff and volunteers, focusing on a safe and healthy environment in all our programs.
More information will be formally communicated at the appropriate time.
Rob Dawson
Board President
519-704-1302
dawsonrobk@gmail.com
SURVEY RESULTS
posted Apr 4, 2022, 8:53 AM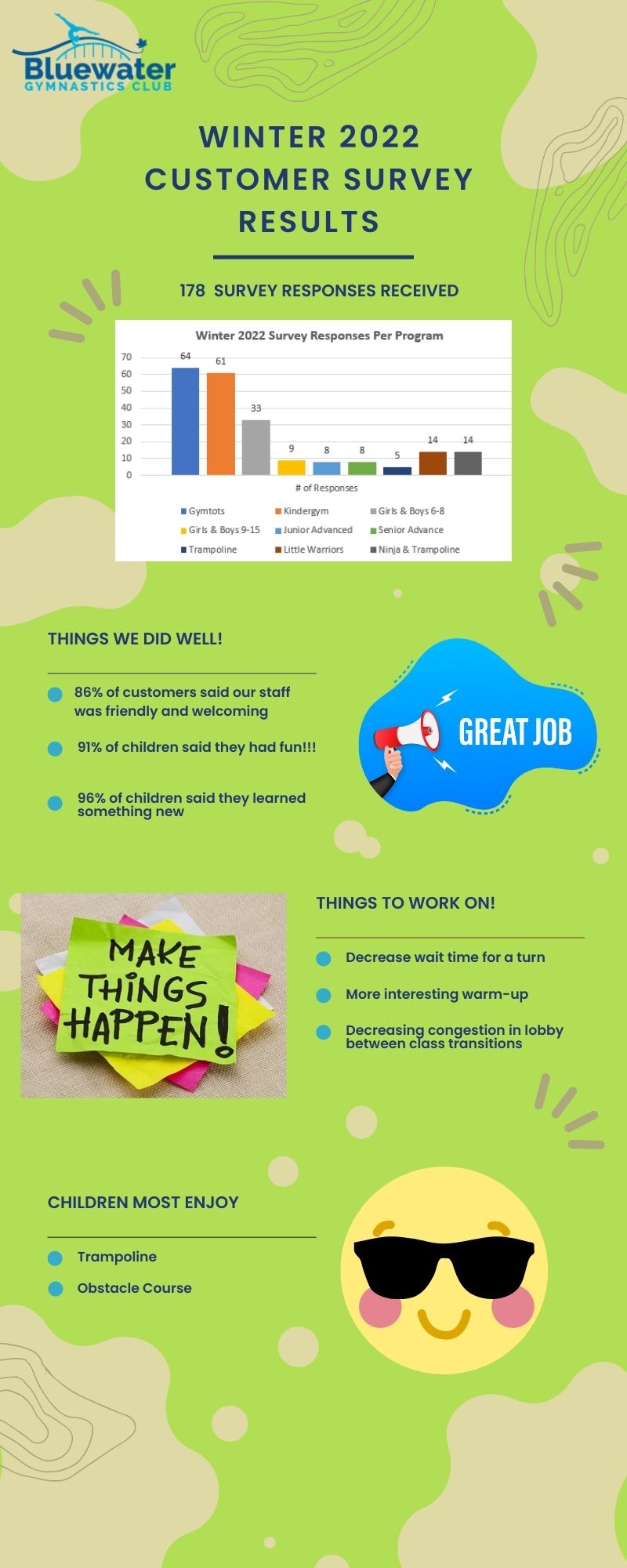 CAPACITY AND PROOF OF VACCINATION UPDATE
posted Feb 27, 2022, 12:32 PM
Proof of Vaccination is no longer required at Bluewater Gymnastics Club starting February 27, 2022.
Lambton Public Health Press Release
Effective immediately, due to recent provincial announcements and pending changes to vaccination verification the local Letter of Instruction requiring proof of vaccination for persons entering facilities used for sport and recreational fitness activities in Lambton County is no longer in effect.
Capacity limits in all indoor public settings will be dropped starting March 1, 2022.
Thank you
Anita Small
Executive Director
Bluewater Gymnastics Club
WINTER SESSION 2022 POSTPONED - TENTATIVE REVISED START DATE OF JANUARY 31, 2022
posted Jan 3, 2022, 1:34 PM
The government has announced this morning the closure of indoor sports and recreational facilities through Wednesday January 26th. We will be postponing the session start date as of today, January 3rd, 2022. We are tentatively scheduling the new start date for Monday January 31st. As we have more information about the new start date, we will communicate that with you.