News
BGC STATEMENT REGARDING THE FINALIZATION OF DISCIPLINARY SANCTIONS TO DAVID AND ELIZABETH BRUBAKER
posted Apr 13, 2022, 7:19 PM
Re: Withdrawal of Appeal and the Finalization of Disciplinary Sanctions to Dave and Liz Brubaker
Bluewater Gymnastics Club has been informed of the withdrawal of appeal that was initiated by David and Elizabeth Brubaker on March 29, 2021. The Panel ruled that David Brubaker be permanently banned from coaching and Elizabeth Brubaker be suspended to January 18, 2024.
Bluewater Gymnastics Club respects the courage of the Bluewater Survivors to come forward and have their voices heard.
Bluewater Gymnastics Club continues to strive to create a positive and transparent culture for our Board of Directors, participants, staff and volunteers, focusing on a safe and healthy environment in all our programs.
More information will be formally communicated at the appropriate time.
Rob Dawson
Board President
519-704-1302
dawsonrobk@gmail.com
SURVEY RESULTS
posted Apr 4, 2022, 8:53 AM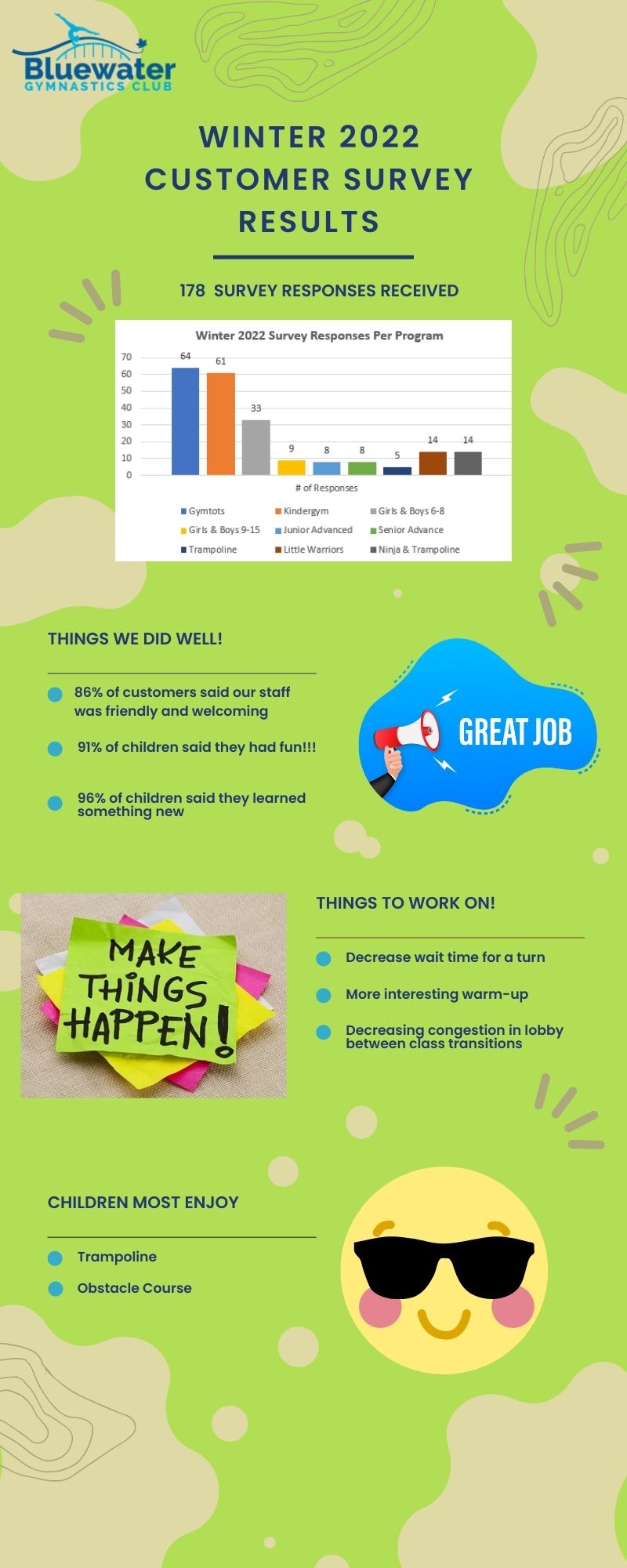 CAPACITY AND PROOF OF VACCINATION UPDATE
posted Feb 27, 2022, 12:32 PM
Proof of Vaccination is no longer required at Bluewater Gymnastics Club starting February 27, 2022.
Lambton Public Health Press Release
Effective immediately, due to recent provincial announcements and pending changes to vaccination verification the local Letter of Instruction requiring proof of vaccination for persons entering facilities used for sport and recreational fitness activities in Lambton County is no longer in effect.
Capacity limits in all indoor public settings will be dropped starting March 1, 2022.
Thank you
Anita Small
Executive Director
Bluewater Gymnastics Club
WINTER SESSION 2022 POSTPONED - TENTATIVE REVISED START DATE OF JANUARY 31, 2022
posted Jan 3, 2022, 1:34 PM
The government has announced this morning the closure of indoor sports and recreational facilities through Wednesday January 26th. We will be postponing the session start date as of today, January 3rd, 2022. We are tentatively scheduling the new start date for Monday January 31st. As we have more information about the new start date, we will communicate that with you.